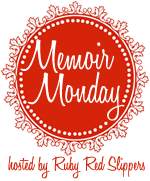 Another weekend has come and gone. Working weekends always go that much faster but this one was a whirlwind but I had so much fun! It seems that all my weekends lately have been whirlwinds though.

Friday night our local city's festival was starting Friday and they have a kick-off parade and fireworks show so my mom and I took Leo. We left around 5:15 and didn't get home until almost 11. It was pretty warm but not bad. We were sweaty for awhile but then after we started walking around after the parade we cooled off. And the fireworks were pretty good too. All in all a pretty nice evening.

Saturday I worked all day but after work my mom had told me that a family friend who recently had a baby was back in town visiting her parents and they were having a reception for her (and the baby). Her baby had to have open heart surgery and so it was really relieving that they were able to come from the hospital with a healthy(ish) baby. He is beautiful and has a head full of hair! I was only going to go for awhile and we got there at 7 and I didn't get home until after 9:30. Again...we had a really nice time and it was wonderful to see and old friend and her baby!

And finally...Sunday was my BIRTHDAY! The big 2-7! It's so weird being so close to 30. I don't feel old but just weird! But I had a pretty awesome day. We got up and just hung around the house for the morning and then for lunch we went out to a restaurant that we had never taken Leo to. He actually liked it and behaved the ENTIRE time. It was a birthday miracle! Then we hit up Best Buy because I got a Kindle for my birthday so we got a Kindle cover and book light. So that's pretty awesome. And then we went to Old Navy and I got a new bathing suit, 2 dresses and a pair of flip flops. Later Sunday night I started my bowling league. That's right. I'm in a bowling league. With my mom and one of my cousins. And we were (not) awesome. But we did have a lot of fun! It's a Sunday night league and it goes through August. So hopefully before the end of the league I will have a super-awesome average!

Whew. That was a very busy weekend but so much fun! Hope you all had a great weekend!