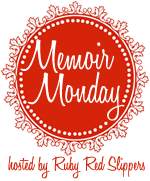 This weekend has been pretty uneventful. I had to work all day Saturday but luckily it was with a co-worker I enjoy because we were pretty slow. All the excitement for my weekend came Saturday night. I came home from work to find a weird vehicle in our driveway. I come inside and one of my hubby's long lost friends was sitting in our living room! It was such a surprise and a welcome one. The hubby doesn't have a lot of friends and this one moved a few years ago out of state so we see him and his family even less now. So that was fun. We caught up for a few minutes but then the hubby dumped the monkey on me and him and his friend bolted. I thought it was pretty funny. They were basically just waiting on me to get home from work so they could go. And all they were doing was going out to dinner and going to Best Buy. Boys are funny!
And I was ok with them leaving because I already had plans going to my aunt and uncles house for a family gathering. We had family in from out of town so we were able to see them and it was awesome. I played a new game called Bananagrams and it was so much fun. But I'm definitely a word game type of girl. I also ate lots of delicious snacks and then came home around 9:30. I needed an early night after my work week!
And on Sunday we just had a lazy day. The Raiders played the Chiefs and since the hubby is a die-hard Raiders fan we reserved our day for the game. I also made some delicious chicken and dumplings for dinner. Yum! And of course the monkey was a little sicky so we tried to get him to relax as much as possible!
So all in all a pretty laid-back weekend. It was nice to not have much going on that had to be done. Check out more of what other people did this weekend at
Monday Memoirs
.